Filed Under :
Country
,
Culture
,
Facility
,
Figure
,
Flora & Fauna
,
Tourism destination
,
Transportation
by raghil
Jun.11,2012
Taman Mini Indonesia Indah (TMII) is a cultural theme park area of Indonesia in East Jakarta. An area of approximately 150 acres or 1.5 square kilometers is located at coordinates 6 ° 18'6 .8 "S latitude, 106 ° 53'47 .2" BT. This park is a summary of the national culture of Indonesia, which covers various aspects of daily life of the 26 provinces of Indonesia (in 1975) is displayed in the pavilion area of traditional architecture, also displays a variety of fashion, dance and traditions of the area.
In addition, in the middle of TMII illustrating there is a miniature lake in the middle of the Indonesian archipelago, cable car, various museums and the IMAX Theatre at Theatre Keong Mas my homeland, a variety of recreational facilities makes TMIII as one of the leading tourist areas in the capital city.
History
The idea of building a miniature which includes completeness Indonesia with everything in it is triggered by the first lady, Siti Hartinah, better known as Ibu Tien Soeharto. The idea was sparked at a meeting at Jalan Cendana no. 8 Jakarta on March 13, 1970. Through this miniature is expected to evoke a sense of pride and a sense of patriotism throughout the nation of Indonesia. So began a project called Project Thumbnail Indonesia "Indonesia Indah", implemented by the Foundation of Harapan Kita.
TMII built in 1972 and inaugurated on 20 April 1975. Various aspects of the natural and cultural wealth of Indonesia through the utilization of modern technology on display in an area of 150 hectares. TMII is rather hilly topography of the original, but is in accordance with the wishes of the designer. Team of designers take advantage of the height of uneven ground is to create a landscape and a rich landscape, describing the different types of environment in Indonesia.
TMII has a logo which basically consist of letters TMII, abbreviation of "Taman Mini Indonesia Indah". While the mascot in the form of Hanuman puppet called Nitra (Anjani Putra). Mascot Taman Mini "Indonesia Indah" was unveiled by Mrs. Tien Soeharto its use, coinciding with the bi tiger TMII age, in 1991.
In Indonesia, almost every tribe has a shape and a different style of building, not even one tribe rarely have more than one type of traditional buildings. Building or traditional architecture they make always background by environmental conditions and the culture they have.
In TMII, the picture is realized through the Pavilions, which represents the tribes residing in the 33 Provinces of Indonesia. The pavilion was built in the province around the lake with a miniature archipelago of Indonesia, thematically divided into six zones; Java, Sumatra, Kalimantan, Sulawesi, Bali and Nusa Tenggara, Maluku and Papua. Each pavilion displaying typical local buildings. The pavilion also features custom clothing and apparel, wedding clothing, dance clothes, as well as ethnographic artifacts such as weapons and furniture typical of everyday life, model building, and handicrafts.
Everything is intended to provide detailed information about the traditional ways of life different ethnic groups in Indonesia. Each province also has a stage pavilion, amphitheater or auditorium to show a variety of traditional dances, folk music performances, and various ceremonies are usually held on Sundays. pavilion also features a cafeteria or a small shop that serves a variety of Indonesian cuisine typical of the province, and has a gift shop that sells various handicrafts, T-shirts and various souvenirs.
From 1975 to 2000 the original design of the bridge TMII custom home consists of 27 provinces in Indonesia, including East Timor. But after East Timor's independence and broke away from Indonesia in 2002, the status of the bridge turned into a Museum of East Timor East Timor. Moreover, because Indonesia is now composed of 33 provinces, the bridge-pavilion of the new province as the Pacific Islands, Banten, West Sulawesi, North Maluku, Gorontalo, Jakarta, and West Papua have been built in the Northeast corner of TMII, although the size and extent of the new provincial pavilion This is much smaller than the provincial pavilion has been built before.
Religious buildings
Religious buildings are represented by several houses of worship officially recognized religions in Indonesia, it is to describe the relationship between tolerance and religious harmony in Indonesia. Religious buildings include:
1.Diponegoro Mosque
2.Catholic Church of Santa Catharina
3.The Protestant Church Alleluia
4.Great Penataran Kertabhumi
5.Arya Vihara Arama Dwipa
6.Sasana Adirasa Prince Samber Lives
7.Kong Miao Confucius temple

Recreational facilities
1.Palace of Children Indonesia
2.Keong Mas
3.Cable car
4.Swan Boats Arsipel Indonesia
5.Among the park Putro
6.Taman Ria Atmaja
7.Tourism Village
8.Snow Bay swimming pool
Park
In TMII there are ten kinds of garden that shows the beauty of the flora and fauna of Indonesia:
1.Bird Garden dome.

2.Orchid Garden
3.Garden of Life Pharmacy
4.Cactus Garden
5.Taman Melati
6.Flower Garden of the Golden Conch
7.Freshwater Fish Aquarium
8.Parks Bekisar
9.Bird Park
10.Taman Ria Atmaja Park, the stage musical performances
11.Chinese Indonesian Cultural Park
Museum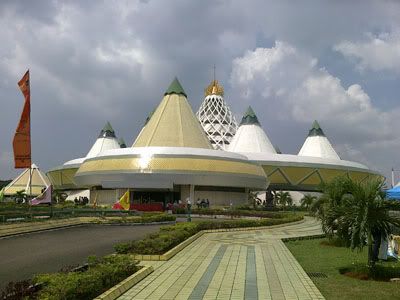 Museum is dedicated to showcase the history, culture, flora and fauna, as well as technology in Indonesia. There are 14 museums in TMII:
1.Museum Indonesia
2.Museum of Arts and Ceramics
3.Indonesia military museum
4.Indonesia Stamps Museum
5.Heritage Museum
6.Museum of Transport
7.Museum of Electricity and Energy
8.Museum of Telecommunications
9.Museum Lighting
10.Sports Museum
11.Asmat Museum
12.Museum Komodo and Reptile Park
13.Insect Museum and Butterfly Garden
14.Museum Center of Science and Technology Demonstration
15.Oil and Gas Museum
16.Museum of East Timor (former East Timor Pavilion)
Theater or cinema
Golden Conch IMAX theater is a theater with giant screen, much larger than normal size movie screen. IMAX Theatre at the Keong Mas played a variety of films ranging from environmentally-themed movies and culture of the archipelago until the box office movies are converted to a special resolution for IMAX theaters. IMAX films are screened, among others, Indonesia Indah II, Force of Nature, T-Rex, Blue Planet, Arabia, Journey to Mecca, etc..
You can leave a response, or trackback from your own site.